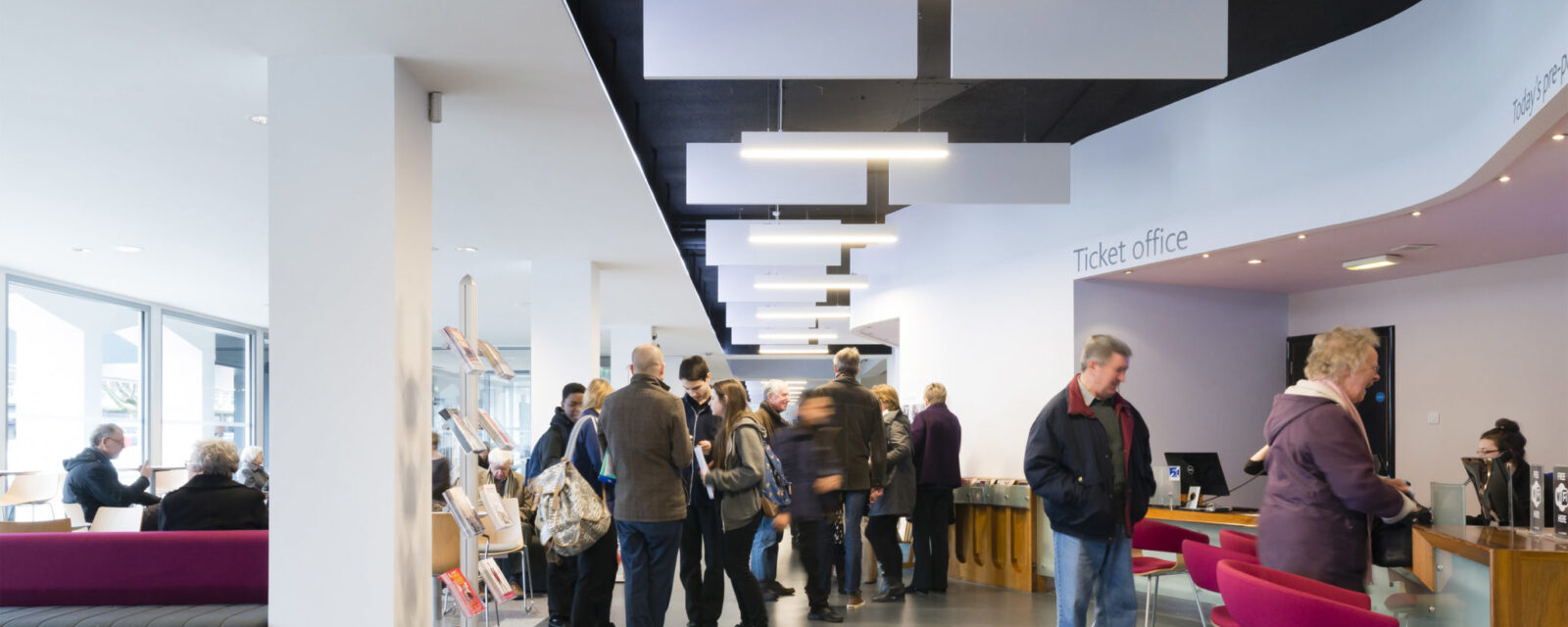 Lighthouse, Poole's Centre for the Arts
location:

Poole

client:

Lighthouse

role:

ArchitectureInteriors

sector:

status:

Completed 2018
A series of strategic interventions breathe new life into Dorset arts complex
The building was opened in 1978 as Poole Arts Centre, delivered by the Poole Borough Council in response to a lack of cultural facilities in South East Dorset. At the time it was the largest arts centre outside London. By the late 1990s the facility was failing to compete with more recent leisure attractions and having celebrated its 21st year of operation in 1999 the venue underwent a £8.5 million Heritage Lottery funded transformation to bring the facilities up to date technically and to upgrade the public areas. The building subsequently received an RIBA Award.
Re-opened in October 2002, the centre was reborn as Lighthouse, Poole's Centre for the Arts. Art installations came in the form of a specially commissioned bar and an all-new imaginative facade to the building that comes alive at night with an impressive display of lighting designed by Peter Freeman. Our proposals for this latest refurbishment breathe new life into many key facilities within the building whilst retaining aspects of the 2002 scheme.
The investment in the future of this magnificent building will pay instant dividends in that not only will it enable us to continue to attract the world class performers and entertainers our audiences have come to expect, but we will be fit for the future to meet the changing needs of the wider community.

Elspeth McBain, CEO, Lighthouse.
Our Approach
With the 40th anniversary of the Lighthouse approaching in 2018, the £5.3m refurbishment was planned in two phases and part-funded by grants from the Arts Council and Poole Borough Council with the remainder raised by the Love Lighthouse fundraising campaign.
Following the upgrade of sound and lighting in the Concert Hall and Theatre during 2015, a four-month programme of works in the summer of 2016 delivered a number of key changes including the transformation of the Studio theatre (now known as the Sherling Studio), a relocated main entrance, clear glazing installed in the foyer, the creation of a new education and rehearsal space, a new stage door entrance, updated dressing rooms, a Green Room and improved security. The flat floor mechanism in the Concert Hall was overhauled, new plumbing delivered drinking water on tap throughout the building and a number of other improvements to improve energy-efficiency will result in significant cost savings.
A new rehearsal/classroom space has been created on the first floor and the existing function rooms updated to modern high-quality conferencing standard with better acoustics and sound insulation, improved sound systems and digital screen facilities.